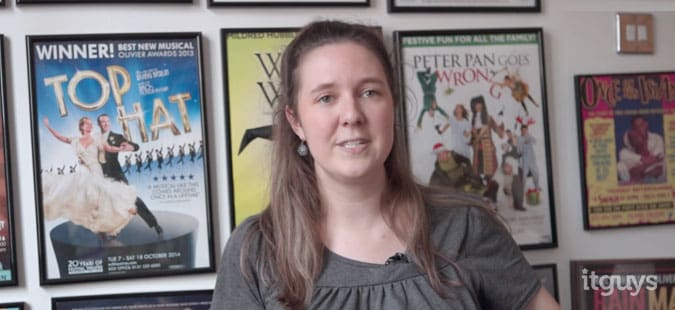 Kenny Wax
Kenny Wax is a leading theatre production company in London.
The Challenge
ITGUYS has been supporting them for over ten years when they were a team of three. Now with a headcount of over 40 people, the old ways of working with shared drives, static workforce and manual processes created delays, inefficiencies and frustration.
The Solution
Moving all of the company's data, mail and accounting systems into the cloud means that the whole team is able to work from home, in the office or both.
Kenny Wax manage dozens of theatre companies, all with separate billing, accounting and communications needs. The cloud system in place allows them to manage all this efficiently and they can clearly see the return on their investment.
Benefits
Work from anywhere.
All systems are cloud-based and fully backed up to a second cloud provider preventing ransomware
Work on any device ("hot-desk")
New devices are deployed in minutes.
Resetting devices takes less than an hour
Very secure networking minimises data loss, theft or breaches.
Regular tech business reviews allow forward planning with roadmaps and costs.
The Future
Regular meetings allow the client to develop in sync with ITGUYS and provide synergy with their IT partner.